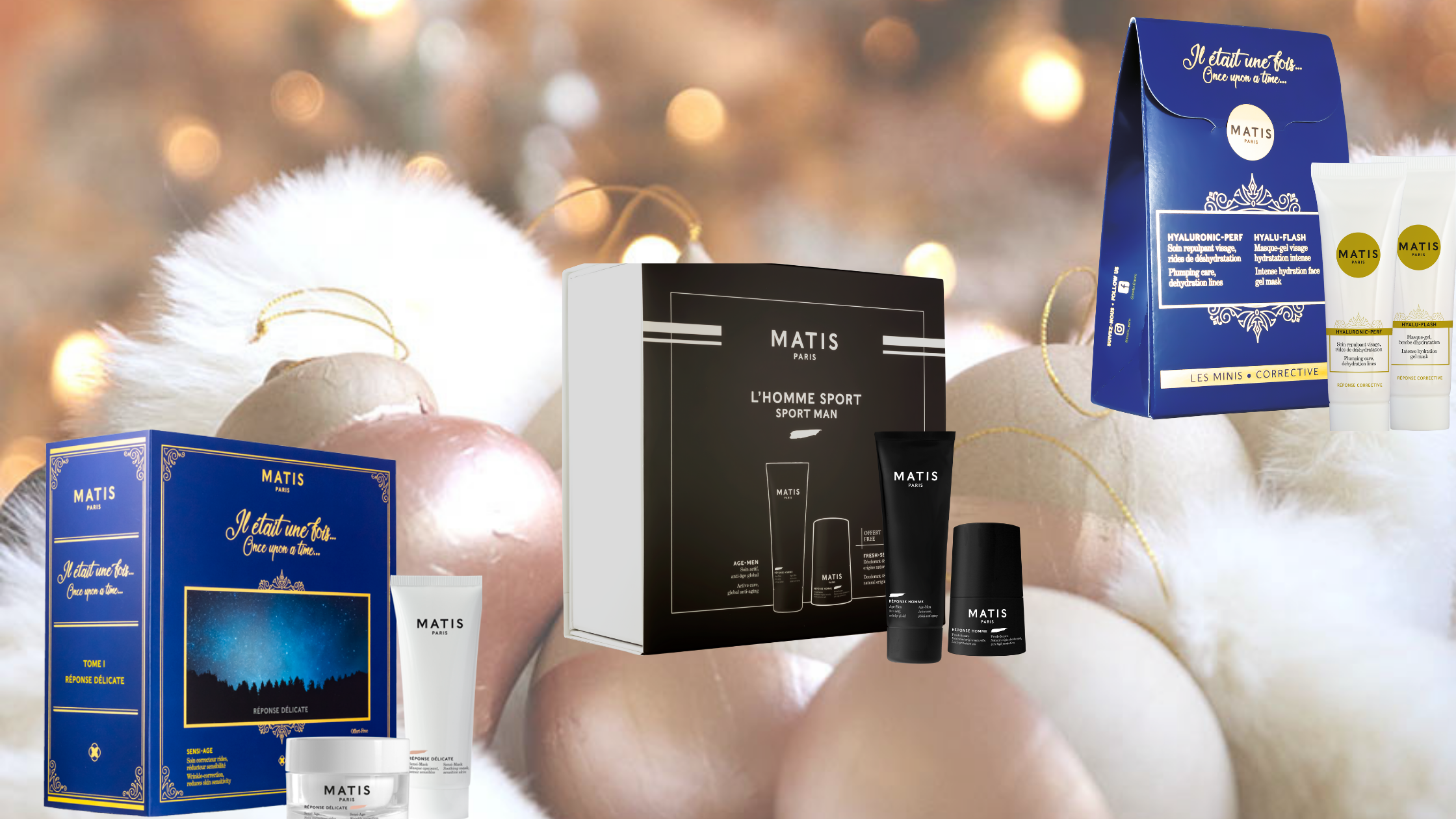 Once upon a time… This Holiday season will be marked by the amazing MATIS-inspired fairy tale dreams. Allow the enchantment of the MATIS Christmas gifts sets to inspire you.
Let us introduce you to our four fantastic Christmas gift sets. Not to mention our fantastic Christmas gift set for the men in our lives.
Here's a sneak peek at our Once Upon a Time Christmas gifts collection….. Reponse Preventive : this set is aimed at millennials who want to combat the early indications of ageing. NUTRI-MOOD SERUM is included in the set, and its silky yet enveloping texture helps to intensely nourish the skin leaving it comfortable and strengthened. Including a full size HYDRAMOOD-NIGHT FREE! This turbo-charged moisturizing mask drenches the skin in softness, leaving it ultra-replenished at night time.
Once Upon a time…. Reponse Delicate. The collection is designed to provide a relaxing experience while also providing excellent results especially on the most sensitive and reactive skin types. SENSI-AGE is included in the set. A genuine anti-ageing beauty experience that smooths wrinkles while relaxing the skin and delivering immediate relief. FREE SENSI-MASK is also included. A calming mask that adds immediate and long-term benefits.
Once Upon a Time… Reponse Corrective. Inspired by aesthetic medicine to tackle wrinkles. Experience NIGHT-REVEAL10 in this beautiful Christmas gift. An overnight corrective mask that re-plumps the skin and reduces the wrinkles. Marks will disappear and the skin appearance is improved. Also included FREE is HYALURONIC-PERF, Experience this cream to saturate the skin with moisture, restoring a fresh, smooth and plump effect to skin.
Once Upon a Time… Reponse Densite. Designed to plump, firm and restore volume to all mature skin types. This set includes DENSIFIANCE- CREAM that will help to strengthen the skin structure. Wrinkles will appear more smoothed and the skin is optimized. Also try DENSIFIANCE-SERUM FREE. This serum redefines the face contours and compensates skin damage caused by ageing. It also rapidly delivers all benefits of the active ingredients to your skin.
Sport Man. An elegant, effective fuss-free men's skincare set. Treat the men in your life to our AGE-MEN cream. This cream was created specifically for guys to help the indications of ageing. An anti-ageing, mending and moisturizing treatment. The texture is soon absorbed. A FRESH-SECURE is also included FREE. A natural deodorant that keeps you fresh and protected for up to 48 hours.
For more information please contact marketing@frenchbeautyexpert.co.uk