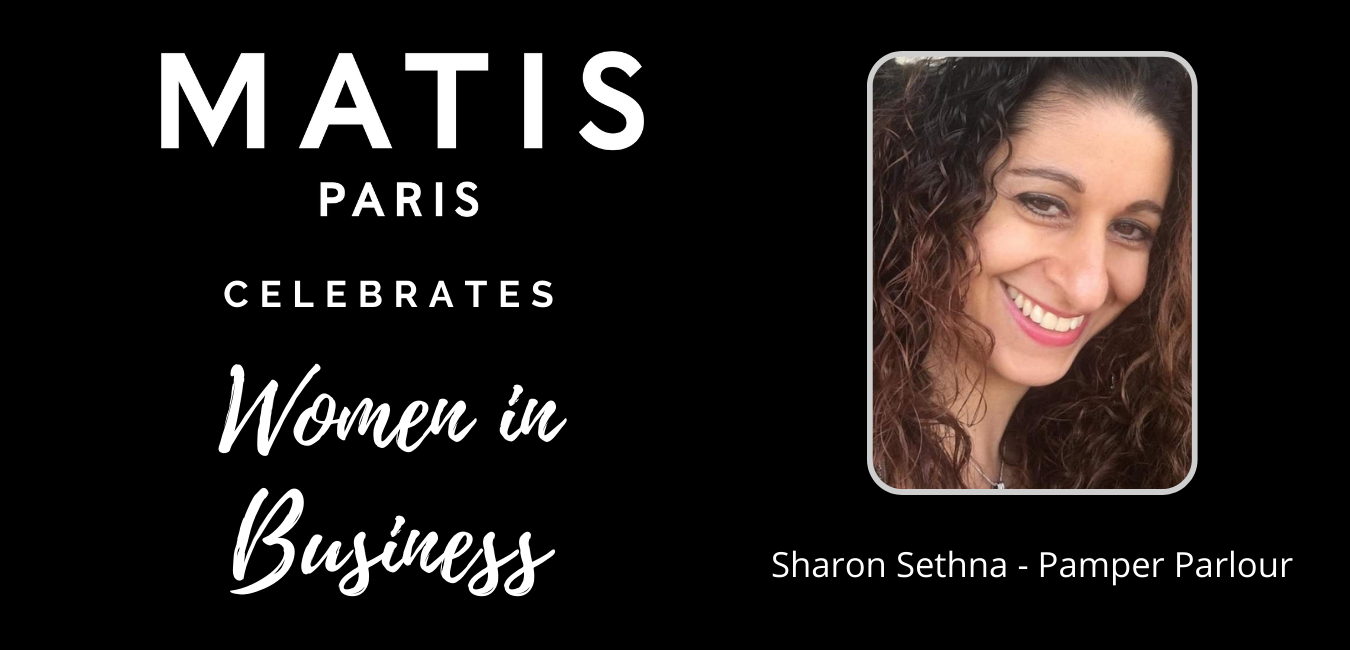 Having celebrated International Women's Day earlier this month, Matis Paris are dedicating this month talking to inspiring Women in Business to learn more about what makes them powerful and keeps them growing personally and professionally.
Today we are speaking to Sharon Sethna, the owner of award-winning Matis salon Pamper Parlour, who has over 30 years in the beauty industry and has been a business owner for 28 years.
Tell us a little about your business
I opened my business with a business partner in May 1992. After only 6 months, our business partnership ended leaving me at a young age to run the business myself. It was hard work but I really enjoyed building the business to what it is today.
My salon was on a busy high street and I employed 4 beauty therapists. My time there was busy and fun as most of our customers were long term customers which made the working atmosphere lovely as everyone was friendly and customers got to know each other well.
After 22 years I realised I wanted to reduce my work load in order to spend more time with my family and to finally start having regular holidays. My husband transformed a room at home into a beautiful, bright treatment room for me to work from so I moved the location of my business from the high street into my home and all my lovely loyal clients came with me. Working from home also allowed me to rent out the shop and gain an extra income.
What do you think makes women excel in business?
We excel in business as we generally have more empathy and are good multi-taskers.
What do you consider your biggest success in your career?
My biggest success for me has to be the loyal client base who have stayed with me since I very first opened.
Share with us your biggest lesson in business
There is always a solution for every problem, always stay calm and professional. 
What women have inspired you in your life and career?
My mum who is an eternal optimist. She always brings me up when I'm feeling down and is a great listener. Also my sister, who is very determined, fiercely independent and always there for me.
What actions did you have to take to help your business survive the Covid 19 crisis?
I spent weeks adding all my products to the online shop on my website. This has been something I have wanted to do for years but never found the time to do it. Kept in contact with my customers and did loads for courses and studying.
What do you hope the world of business to be like for women in the future?
Equal for all, respect for colleagues and working as a team.
How do you envision your business to grow going forwards?
I would like to specialise in my 2 favourite treatments, facials and waxing, offer bespoke packages and work part time. The actions I have taken during lockdown will help my business diversify. 
What does International Women's Day mean to you?
International woman's day is a celebration of all women and their struggles and successes.
Describe the 3 characteristics about yourself that you believe led to your success in business.
Approachable, empathetic, with a good sense of humour.
How does your work positively impact women of your city and/or women of the world?
I help women feel better about themselves and always leave my salon with a smile on their face.
What's a daily or weekly ritual you have that contributes to your ongoing success?
I'm using my Matis products daily since first opening my business. This has allowed my customers to see the benefits of the products which contributes to my sales.
What's something interesting you're currently working on? Personal or professional.
On a personal level, I'm looking forward to the day I can finally fly out to see my parents again.  Professionally, I would love to create one new natural beauty product!