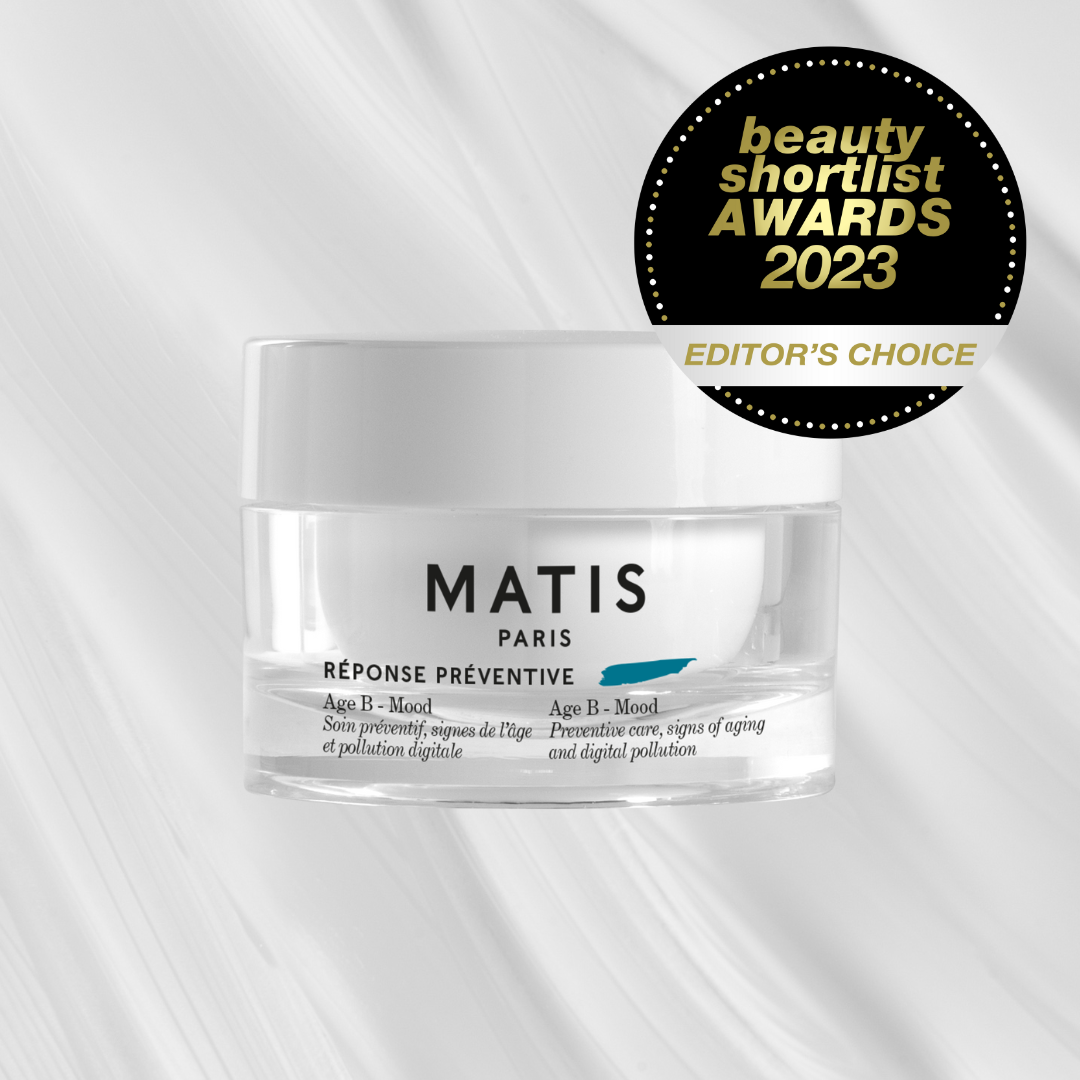 We are very excited to announce that Matis Paris, the leading French luxury skincare brand, won the Editor's Choice Award at the 2023 Beauty Shortlist Awards with their innovative Age B-Mood Moisturiser.
Age B-Mood is a preventive and protective treatment created for daily use with a lightweight, melting texture suitable for all skin types. Its dual-action formula inspired by the science of sirtuins, prevents the signs of ageing and protects against oxidative stress caused, in particular, by the blue light of tablet and smartphone screens.
Main active ingredients present in the Age B-Mood formula are:
Macrobie Protector System : Peptide extracted from oryza sativa rice containing sirtuin activating compounds and anionic polysaccharide obtained by biotechnologies – bacterial fermentations. Activates longevity proteins, prevents premature ageing by stimulating youth proteins, restores the quality of the barrier function.
Oxyblue System : Purified fraction of Buddleja officinalis flowers and essential micro minerals such as iron, manganese and zinc. Prevents premature photoaging, maintains the normal physiology of the skin by protecting it against free radicals from light rays, oxidative stress, protects the integrity of the skin barrier, stimulates cellular respiration.
Day after day the skin is hydrated and better protected from the signs of premature ageing. Its natural beauty and glow is boosted and its hydration restored..
Nicola Fisher, French Beauty Expert Managing Director, commented: "We are very excited to see this innovative new formula being recognised on a global level and by reputable industry experts."
Laurence Bonard, Matis Paris International Director, added: "We are very honoured to have achieved this amazing award at the prestigious Beauty Shortlist Awards. We are always striving for excellence and we will continue formulating state-of-the-art skincare."
Founded in 2012 by beauty journalist Fiona Klonarides, the Beauty Shortlist awards have grown organically into the UK's leading indie beauty awards, going global in 2017. The awards are sponsor-free, ad-free, partnership-free, 100% independent, judged by industry experts (3 panels in UK, USA & Australia) and completely trusted by consumers.
Read more about our award-winning products here.
For more information please contact us at marketing@frenchbeautyexpert.co.uk