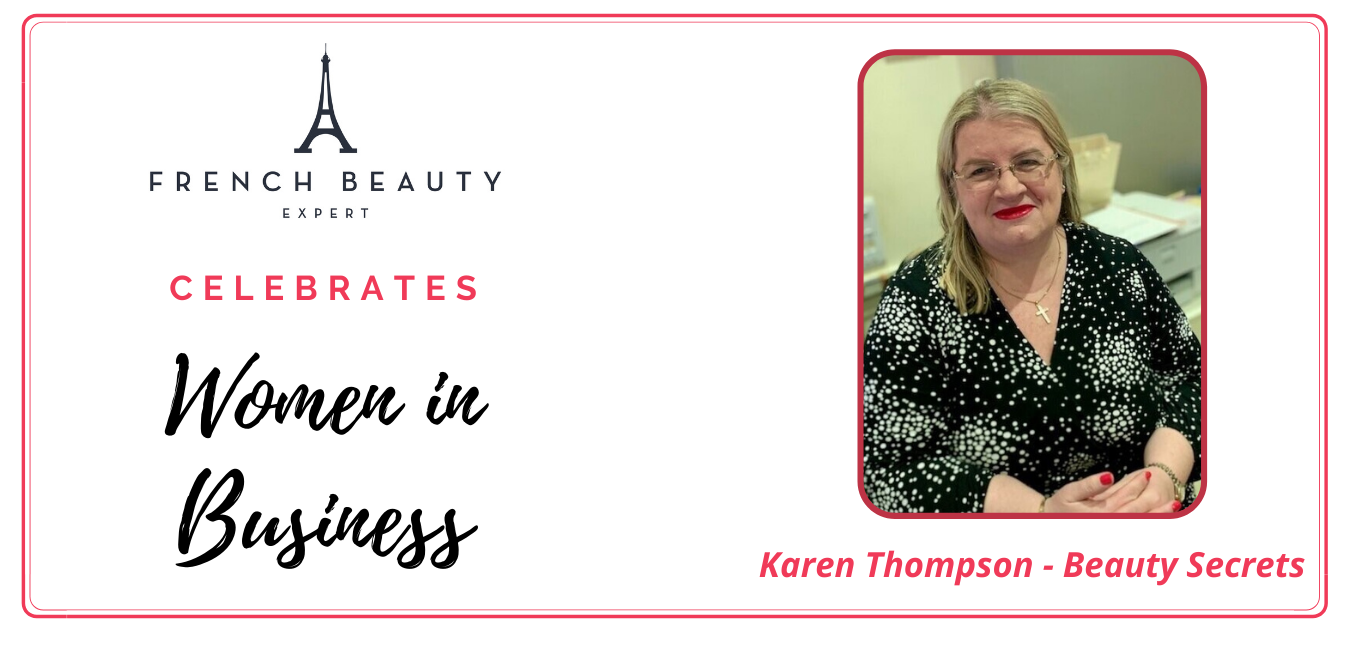 In French Beauty Expert we love celebrating the great success and magnificent personalities of Women in Business across many industries! Through our conversations with them we hope to learn more about what makes them powerful and keeps them growing personally and professionally and be inspired by their spirit.
Today we are speaking to Karen Thompson, who has been the Director for 25 years of Beauty Secrets, a multi-award-winning salon group with three large high street salons in Horsham, Godalming and Hove.
Tell us a little about your business.
35 years ago, Beauty Secrets was the vision of Beryl Martin who at the age of 40 decided it was time for her to follow her lifelong dream to become an Aesthetician, more commonly known as a Beauty Therapist. She successfully completed the advanced International CIDESCO Qualification; an intensive 12 months course. In order to obtain her certificate she worked in a salon in Farnham and gained first-hand experience of running a successful beauty business.
Having gained her qualification in 1985, she decided the time had come to start her own business. In an annexe to her house in Loxwood, Beryl transformed a former bedroom and sitting room into her first salon space and Beauty Secrets was born. Working alone she built up her client base offering all the treatments her clients wanted, ensuring she always met and exceeded their expectations. Her philosophy was to never say 'no' to anyone and to ultimately offer all the treatments under one roof. This mantra is still upheld in the family-run business today.
Beryl's inspiration and determination has seen Beauty Secrets grow to the impressive multi-award-winning salon group it is today combining the very best of aesthetics with hands-on; machine-led skincare and spa into bespoke treatment packages personally prescribed for individual clients.  With three large high street salons in Horsham, Godalming and Hove offering the breadth of treatments not seen elsewhere, Beryl's legacy continues to flourish under my watchful eye and my amazing management team, some of whom have worked with us now for over 10-15 years!
What do you think makes women excel in business?
Their sheer determination to achieve in a business sector built on customer service and the knowledge of what people need. The fact that women are excellent multi-taskers and CAN juggle the demands of life: family and business, even though sometimes it feels like we can't!!
What do you consider your biggest success in business/ your career?
The recognition of the consistent standards of service that we offer through the awards that we have won; the longevity of staff appointments based on good development and training opportunities and a loyal client base now numbering over 7000 active customers.
In my career, the success of continuing the family business and steering it through a global pandemic with almost zero job losses.
What are the biggest challenges you had to face in a male dominated world?
Whilst I am not convinced our industry is male dominated, generally the challenge is to be seen on an equal footing and to be able to gain the respect and recognition of business leaders both male and female.
Tell us about your biggest lesson in business.
You MUST lead by example. I do not subscribe to a blame culture and like to encourage others to participate in the running of the business, if your team buys in to your vision, then it will become a reality.
What women have inspired you in your life and career?
My Mother and Grandmother – both strong women who were massive influencers in my career and private lives. Also the female bosses that I have worked for during my career, it is by experiencing their differing styles of management both positive and negative, that I have come to formulate my own style.
What actions did you have to take to help your business survive the Covid 19 crisis?
We completed our rebrand; launched our new website including an online shop in 6 weeks and upped our social media. Constant communication with our clients has meant that they have the confidence that we will be back. Last year our website netted us £20k in online sales with a further £10k from our direct email marketing campaigns.
What do you hope the world of business to be like for women in the future?
I have two teenage daughters and I would like to see them become successful in their own rights, without the worry of the glass ceilings within industries that have historically existed. Also they gain recognition and their effort is rewarded fairly and equally as their male friends.
How do you envision your business to grow going forwards?
I think businesses in our sector will be in great demand. Not only for the maintenance treatments that we offer but the Lockdowns have shown people that the power of touch and the ability to take time out for yourself is an essential and not a luxury as previously believed. We will look to develop the Wellbeing side of our business further to offer the treatments clients need and continue to extend our bespoke treatment offerings to meet clients' needs.
Describe the 3 characteristics about yourself that you believe led to your success in business.
Good listener; Professional; Calm under pressure.
How does your work positively impact women of [your city] and/or women of the world?
We provide women who live or work locally to us with services to boost their own self-confidence and to make them feel good about themselves. We are there to listen and to provide support in some cases when women (and men) are at their lowest – mentally and physically. We build trust and offer excellent customer service every time.
What's a daily or weekly ritual you have that contributes to your ongoing success?
I believe communication is key: so we have regular meetings and catch ups in the salons.
What's something interesting you're currently working on? Personal or professional.
How to develop the business further…