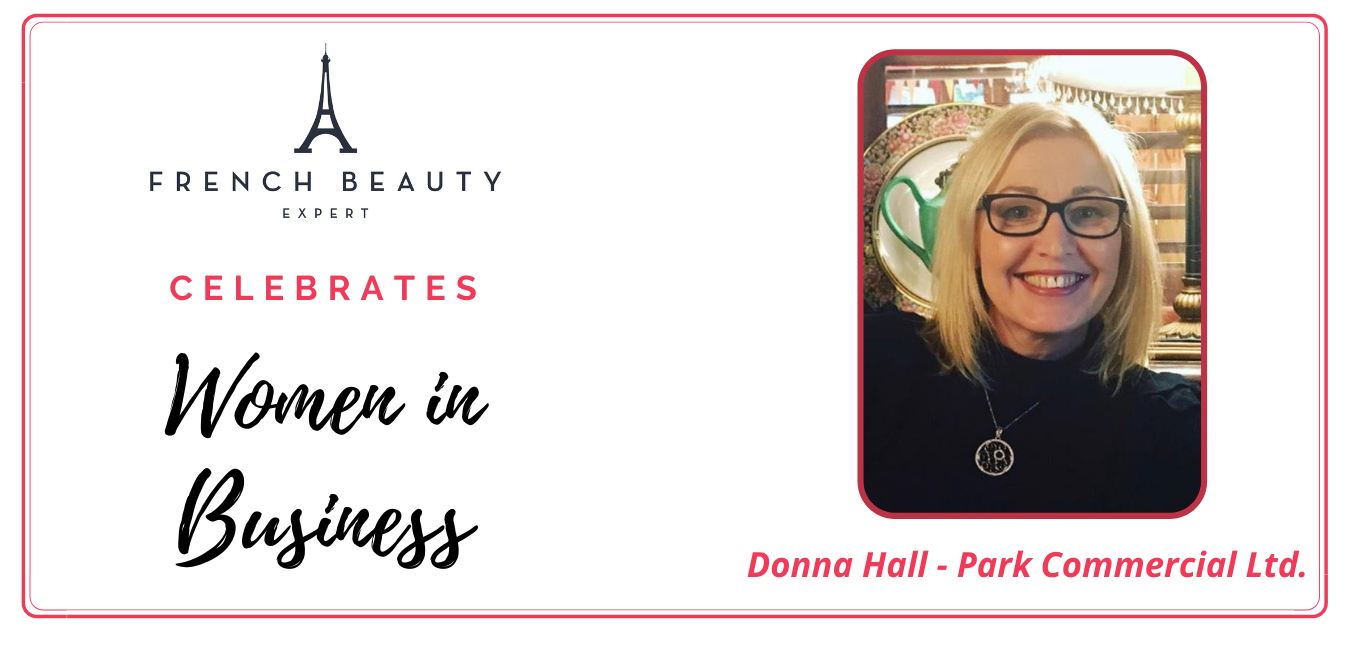 In French Beauty Expert we love celebrating the great success and magnificent personalities of Women in Business across many industries! Through our conversations with them we hope to learn more about what makes them powerful and keeps them growing personally and professionally and be inspired by their spirit.
Today we are speaking to Donna Hall, Sales Director in Park Commercial Ltd, a Durham-based Independent Commercial Insurance Brokers firm.
Tell us a little about your business.
We are an Independent Commercial Insurance Brokers providing a bespoke service for all types of businesses. We build long lasting-relationships based on trust and great professional advice to each and every one of our customers no matter what size.
What do you think makes women excel in business?
Multi -tasking comes naturally to most women I know.
What is the biggest success in your career?
Growing the team over the last few years, so much so that we need bigger premises.
What are the biggest challenges you had to face in a male dominated world?
Fortunately, none in my world, we have equal numbers in our office and treat everyone the same. Perhaps 20 + years ago it was more male dominated but that's such a long time ago now.
What was your biggest lesson in business?
There are a few to be honest but I will go with…Ask questions, you will never learn if you don't ask and If you don't understand just ask again.
What women have inspired you in your life and career?
My Grandmother – The cake lady! She was so patient and respectful. She made the most wonderful wedding cakes and it was a job she did out of pleasure and one she enjoyed doing in her dining room for as long as I can remember.
What actions did you have to take to help your business survive the Covid19 crisis?
We invested in more technology to enable us all to work from home. We needed to be easily accessible to customers, suppliers and staff and this was a great success and one of our best years with new client acquisitions. We kept working throughout and fortunately didn't need to furlough any staff.
What do you hope the world of business to be like for women in the future?
I would like to see more of the younger generation join Insurance.
How do you envision your business to grow going forwards?
We would like to double in size, we have the space to do it now and as long as we keep doing what we do best by looking after customers, suppliers and staff and sticking to our core values it will happen.
What does International Women's Day mean to you?
I am extremely proud of the hard work women have done in the past and thank them implicitly for making it so much easier for my daughter's generation.
Describe the 3 characteristics about yourself that you believe led to your success in business.
I Trust, Listen and Learn.
What's a daily or weekly ritual you have that contributes to your ongoing success?
We have a Monday morning meeting every week to kick start the week and catch up.
I love to swim first thing on a morning too, it makes me feel positively energized!
What's something interesting you're currently working on personally or professionally?
We have purchased a new office which we hope to move into in May once the refurb is complete. We are busy working out who goes where and what colour the breakout room is going to be (priorities). The office is amazing and a much better working environment which will accommodate our expanding workforce and client list.
With over 3,200sq feet at our disposal, we will have an amazing space and facilities for our team. We'll now have access to our own conference room, training facilities and individual meeting spaces along with a wonderful open plan working environment. Its very exciting for us all.