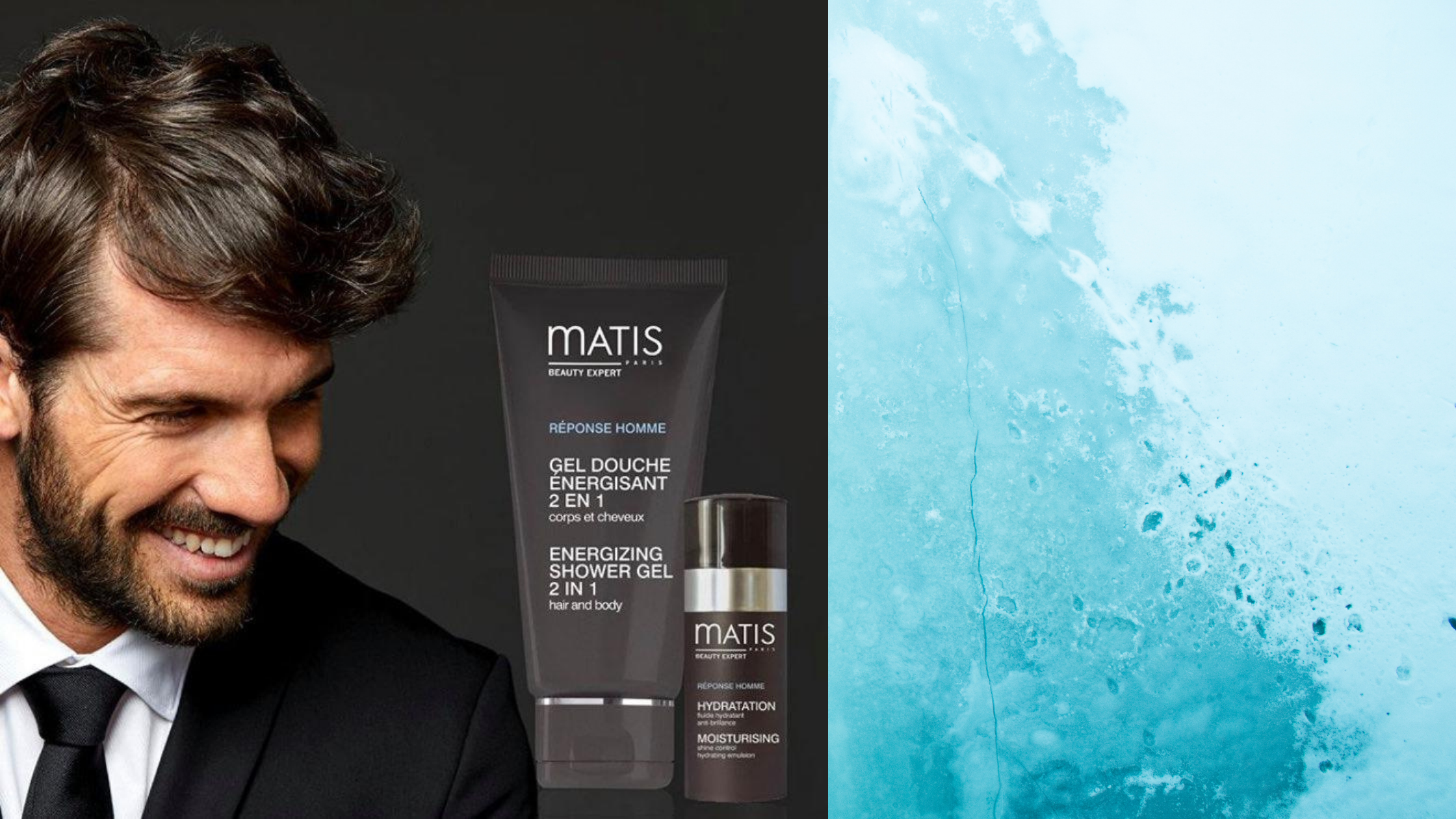 Dedicated men's skincare is essential as men's sensitive skin requires specifically formulated products to meet its different needs. But is male skin different to female skin, you ask. It actually is quite different. Because of the higher levels of testosterone, men's skin is 25% thicker as well as tougher in texture. It also has more active sebaceous glands, and therefore more pores than women's. For that reason, men often produce more sebum and are prone to acne.
In addition, the collagen of men's skin reduces more steadily with the passing of the time. Men are mostly affected by sagging skin whilst puffy eyes and dark circles increase signs of ageing and make them look tired.
Finally, male skin is in greater need of protection from environmental and light pollution as its pH is slightly lower.
Reponse Homme offers men all the essentials for a flawless skin thanks to its carefully selected and targeted active ingredients.
Men's skincare is often focused on reversing the stress that frequent shaving causes to the skin. Reponse Homme High Protection Shaving Gel transforms into a rich cream for a smooth shave while using bisabolol, aloe vera, vitamin E, and sorbitol to nourish and moisturise the skin, leaving it soft and comfortable.
Reponse Homme After Shave Soothing Balm is an ultra-light, non-greasy, alcohol-free balm that pampers tired and irritated skin. Its ingredients include peppermint which soothes razor skin burns, but also vitamin A (cell renewal), Bisabolol (calming), Allantoin (soothing) and Aquaregul (optimizes skin water reserves and reinforces its barrier to limit dehydration). The result: skin is supple, hydrated and soothed.
Another men's skincare essential to keep the skin looking youthful and refreshed in moisturising. Reponse Homme Shine Control Moisturising Emulsion is a fluid emulsion which offers a fresh, light and non-greasy treatment that moisturises the skin while ensuring its shine-control. The complexion is more unified, the skin is soft and velvety. The matte effect is provided by micro absorbent powders but also by a protective polysaccharides which has moisturizing effect. It is suitable for all skin types.
To combine moisturising with anti-ageing action, use daily the Matis Reponse Homme Anti-Aging Active Cream which is formulated with highly-effective ingredients especially for targeting and correcting signs of aging in a man's skin. It veils skin in humectants and antioxidants to deeply moisturise, soothe, and protect skin from the environment.
Finally, Matis Reponse Homme Reset Eyes is an anti-fatigue treatment for the sensitive skin area around the mens' eye contour. With a creamy-gel texture that offers a pleasant fresh feeling and active ingredients that help reduce dark circles, puffiness and wrinkles.