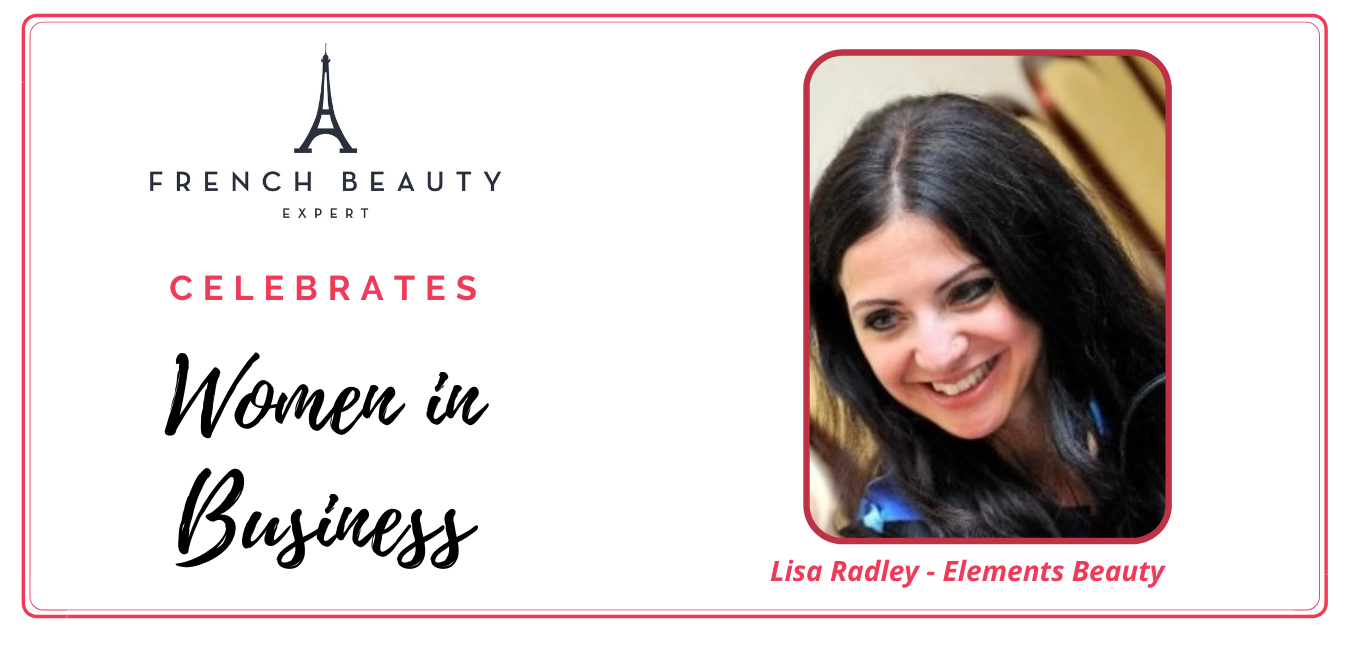 In French Beauty Expert we love celebrating the great success and magnificent personalities of Women in Business across many industries! Through our conversations with them we hope to learn more about what makes them powerful and keeps them growing personally and professionally and be inspired by their spirit.
Today we are speaking to Lisa Radley, Owner of Elements Beauty, an award-winning Matis Paris salon and online shop. Lisa has been in beauty industry for 32 years and for 22 of those she has been successfully running her own business.
Tell us a little about your business.
I have been a beauty therapist for 32 years and I've been running my own beauty salon for 22 years. My salon is in a unique building which used to be a blacksmiths and iron mongers, so getting it to look like a beauty salon was quite a challenge. However, it has some lovely features including an open fire which makes it very welcoming. Over the years the salon as evolved and changed to meet the expectations of customers, as technology and research advanced. 
What do you think makes women excel in business?
I think women make excellent business owners, for a start we are great at multitasking, which is essential, and generally very adaptable to new situations as they arise. To have a successful business you have to have a competitive streak, but I find women very supportive of each other in business rather than seeing each other as a threat. 
What do you consider your biggest success in business?
My biggest success is that I've actually succeeded in having a successful business for 22 years ongoing. I still now stop and think " how did that happen?" A lot of hard work and determination, and it's been worth it. 
Share with us your biggest lesson in business.
There have been lessons to learn along the way, one of which for me was "research before you buy". It's so easy to get excited about new treatments and get drawn in by the hype, but it's not always the right thing for your salon or client base, and you can make expensive mistakes. 
What women have inspired you in your life and career?
Working predominantly with women all my career, I've been influenced by many along the way, with good ideas and inspiration and also what not to do! My biggest influence is definitely my mum, she taught me to have a strong work ethic and showed the benefits of good skincare from a young age. I've also gained a lot of beneficial influence from other women in business, who are my customers or fellow therapists. 
What actions did you have to take to help your business survive the Covid 19 crisis?
Keeping myself motivated and my customers actively still involved with the salon during lockdown was a challenge, but the effort I put in paid off. I ensured I spoke to them all regularly, to see how they were, have a friendly chat like we would during their appointment, taking more time with the ones I knew lived alone. I did home deliveries for their skincare and certainly upped my game on social media, I really was quite rubbish up until this point, I've had to learn a lot. 
What do you hope the world of business to be like for women in the future?
Over the years I've seen the attitude to women in business change for the better. I think for many years we were not really taken seriously and were treated like we were "playing shop" however I think we've all proved that we are very capable of being successful, confident, independent business owners. 
How do you envision your business to grow going forwards?
Going forward my business will change and evolve as it always has depending on demands and circumstances. After the Covid lockdown I've certainly assessed my work/life balance, I think a lot of people have. So I've made changes to have more time for myself by making my business more bespoke. 
Describe some characteristics about yourself that you believe led to your success in business.
I've always been independent and determined, both characteristics have given me the drive to succeed. Enthusiasm and a positive attitude have got me through the more difficult times. 
What does International Women's Day mean to you?
International Women's Day is an opportunity for all women to be proud of who they are, fabulous mothers, supportive sisters, best friends, business owners, we are all amazing in our own way.
How does your work positively impact other women?
One of the greatest pleasures about my work is that I can see on a daily basis the positive effect on my customers. They look better, feel better and have better self-esteem. We also have some great chats and laughs, and especially for those that live alone this can be very up lifting. 
What's a daily or weekly ritual you have that contributes to your ongoing success?
I think I have quite a few rituals that help with my success, but most of the time I don't even notice I do them, they've become habits, and when they do I think it makes running a business easier. A newer more recent ritual is keeping up with my social media. 
What's something interesting you're currently working on? Personal or professional.
During lockdown I was able to spend more time in my garden, which I love. I'm currently working on a wildflower garden to encourage more butterflies and bees. I've also been learning more about how wild flowers were and are used as natural remedies, something that my grandmother was very keen on, and used frequently.